Discussion Starter
·
#1
·
So I got my lower back from Bill, and my TA11 in on Friday, and went shooting Saturday.
Its like firing a whole new gun. I'm not a trigger expert, but overall I'd say the trigger went from being the least pleasurable to the best feeling on any of my "fighting" type rifles. It is much lighter pull, and no movement at all before the break. I believe this is now "single stage" instead of "two stage". Much like the trigger on my bolt gun, but heavier. I don't think it is too light for this gun either. Overall I am quite pleased with it.
Unfortuately the scope has a problem and will have to go back, but here is the gun right at the moment. I think once the problem-free replacement scope gets here, it will be just about perfect in this configuration. (I do have a couple more minor tweaks in mind that I may or may not do.
) I was also expecting the scope to be sitting a little high for my standard cheekweld, but, it was not. It was perfectly aligned as far as I could tell.

Here is the target from my final group (24.7gr H335, Horn 55gr FMJ). As you can see there are a couple fliers opening it up; overall I think this will make a pretty good plinking load. It was cycling with authority on gas setting 1 with this load.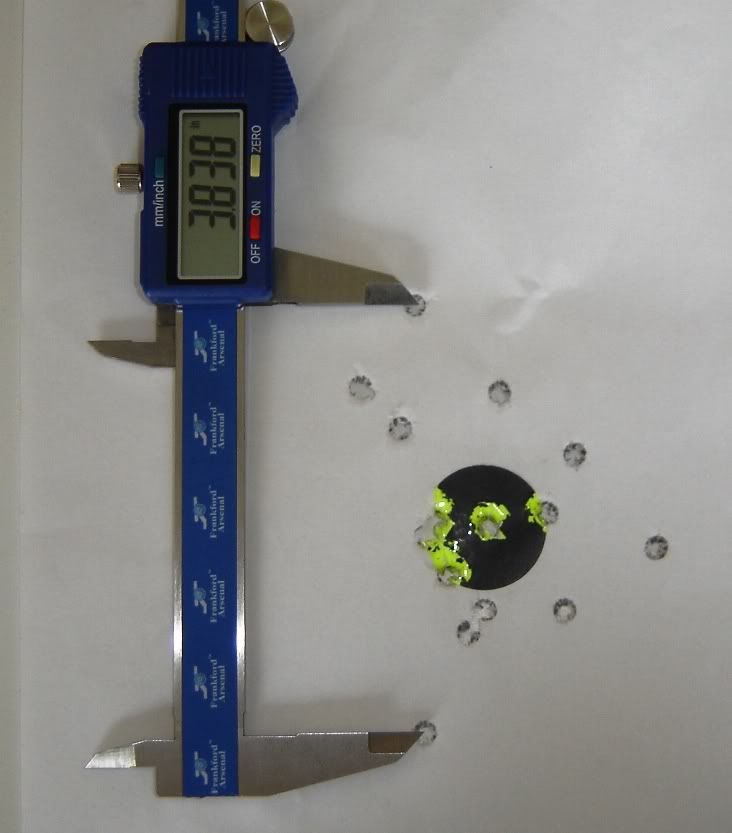 I did have one failure to strip the next round while getting on paper with Silver Bear at the start of the session on low gas setting, but that is entirely expected as far as I'm concerned. That ammo is all over the place in every gun I've tried it in, which I assume means that the powder charges are all over the place as well.
I like it a lot.