Discussion Starter
·
#1
·
Took my 11.5" 6.8 out to the range today for the first time. I really didn't know what to expect, I was just anxious to get out and shoot it. It was nice today, hardly no winds and the range wasn't that crowded. I set up a 50 Meters first as that is where I usually zero at. I started with just a few sets of rounds to judge where the gas setting should be. I started at gas setting 4 and after 3 rounds went down immediately to 3. I stayed on 3 for a good while, probably 50 rounds, until deciding to finish the day at setting 2. Even on setting 2 I was throwing brass more than 10 feet.
One of the first things I noticed was the amount of back blast that comes off the PWS brake. After a few shots I thought I was going to singe the hair on my arms. It wasn't that bad and I got used to it quickly. Not sure if the muzzle blast was different standing somewhere else but it was a nice little thump when shooting.
Recoil was amazing...like shooting 5.56. Other than the louder report when firing you would think you were shooting a 5.56 AR. Again, the muzzle blast was there to tell you that the barrel was short but that was it.
After about 10 rounds I fired for accuracy at 50 meters. I was shooting off of a bench using my grip pod as the bipod. I fired a total of 3 groups at 50. Not counting the flyer in each of the first 2 I think it did pretty well. The final group speaks for itself.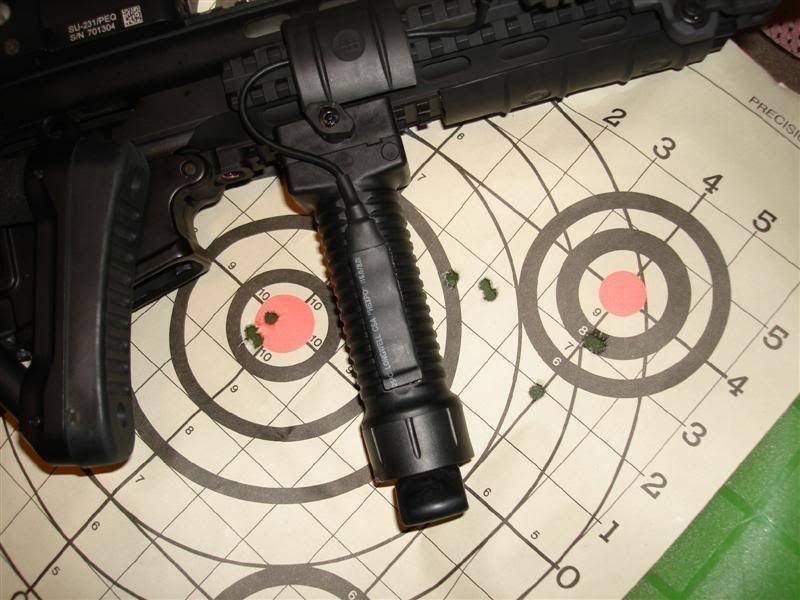 I moved out to 100 meters just to play around a little and was plesently suprised. The group was slightly larger than the ones at 50, about 1"-1.5". These results were way better than I expected for an SBR.
I did notice that I was getting a little bit of gas in my face while shooting once the wind started to move a little. I think that the PWS combined with a headwind and Short barrel will leave some gasses in your face. It wasn't bad and only occured during rapid fire drills.
All in all, I am very happy with these results. The rifle functioned perfectly and shot where I asked it to. I didn't detect any degredation in accuracy. I highly recommend an SBR to anyone that doesn't have one.